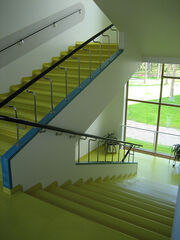 About
A stairway, staircase, stairwell, flight of stairs, or simply stairs is a construction designed to bridge a large vertical distance by dividing it into smaller vertical distances, called steps. Stairs may be straight, round, or may consist of two or more straight pieces connected at angles.
References
Links
Ad blocker interference detected!
Wikia is a free-to-use site that makes money from advertising. We have a modified experience for viewers using ad blockers

Wikia is not accessible if you've made further modifications. Remove the custom ad blocker rule(s) and the page will load as expected.