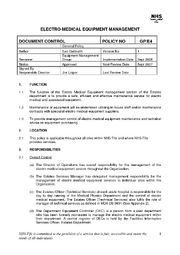 About
The Medical Equipment Management functions that is one of seven primary plans involved with the Environment of Care. The Medical Equipment Management Plan defines the mechanisms for interaction and oversight of the medical equipment used in the diagnosis, treatment, and monitoring of patients. The related policies and procedures govern activities from selection and acquisition to incoming inspection and maintenance of medical equipment. The mission is to ensure that equipment used in patient care is safe, available, accurate, and affordable.[1]
Activities
Medical Equipment Management Activities (EC.02.04.01 and EC.02.04.03) include:
Managing medical equipment risks

Monitoring and reporting incidents in which a medical device is suspected in or attributed to the death, serious injury, or serious illness of any individual, as required by the Safe Medical Devices Act of 1990
The organization identifies the activities in writing frequencies for inspecting, testing and maintaining medical equipment on the inventory based on criteria such as manufacturer's recommendations, risk levels, and current organization experience.
The organization identifies the activities in writing for maintaining, inspecting and testing for all medical equipment on the inventory. The organization uses different strategies for different items as appropriate. For example, strategies such as predictive maintenance, reliability-centered maintenance, interval-based inspections, corrective maintenance, or metered maintenance may be selected to ensure reliable performance.
The organization maintains a written inventory of selected equipment categorized by physical risk associated with risk (including all life support equipment) and equipment incident history. The organization evaluates new types of equipment before initial use to determine whether they should be included in the inventory.
Selection and acquisition of medical equipment
Monitoring and acting on equipment hazard notices and recalls.

Written procedures that address when medical equipment fails.
Inspection, testing and maintenance of medical equipment.

The organization performs safety, operational, and functional of medical equipment identified in the medical equipment inventory before initial use.
The organization inspects, tests, and maintains life support equipment.
The organization inspects, tests, and maintains non life support equipment.
The organization documents performance testing of all sterilizers used.
The organization documents chemical and biological testing of water used in hemodialysis.
Reference
Links
Ad blocker interference detected!
Wikia is a free-to-use site that makes money from advertising. We have a modified experience for viewers using ad blockers

Wikia is not accessible if you've made further modifications. Remove the custom ad blocker rule(s) and the page will load as expected.