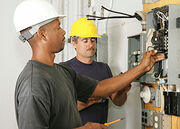 About
Facility managers will delegate maintenance and repairs to outside contractors to perform work to the facility infrastructure. However safety and hazardous materiel's related duties cannot be delegated. Contractors can sometimes inject safety related hazardous within the workplace and its the facility managers role to mitigate and stop those safety issues before there is a loss of life, limbs, or damages to property.[1]
Reference
↑

Booty, Frank. Healthcare facility management. chapter 13
Links
General Maintenance and Repair Workers from BLS: Occupational Outlook Handbook
Ad blocker interference detected!
Wikia is a free-to-use site that makes money from advertising. We have a modified experience for viewers using ad blockers

Wikia is not accessible if you've made further modifications. Remove the custom ad blocker rule(s) and the page will load as expected.