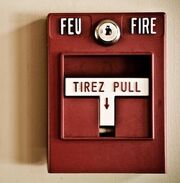 About
The Fire or Life Safety Management functions that is one of seven primary plans involved with the Environment of Care. Program is designed as a prevention as well as a containment program. Safe building design and maintenance of protective features is the first step in protecting building occupants. The hospital has and maintains a variety of smoke barriers, fire barriers, horizontal exits, and occupancy separations so that patients can be horizontally evacuated and housed in-place while the sprinkler system controls and the fire department extinguishes the fire.
Quick detection of potential hazards including those that could result in fire as well as those that would prevent containment of fire or smoke or impede response, or evacuation is the goal and is managed by Environment of Care and Fire Marshal rounds. Staff education to prevent undue patient risks through appropriate response during emergencies is the objective of the training and education component. Fire response in the Hospital requires a combined and coordinated response by all personnel within the facilities. This is where R-A-C-E and fire drills originates. Recall that the local Fire chief is the main "Authority having Jurisdiction" over fire protection services within the medical facility.
everyone in the facility should know the RACE acronym in the event of fire:
Rescue
Alert
Contain
Extinguish
In fact, use the acronym PASS for the use of fire extinguishers.
Aim at the base of the fire or floor.
Squeeze the discharge handle.
Sweep the agent across the fire.
Fire Drills
Each area of a hospital must have a site-specific fire and safety plan, and all employees working in that area must receive annual fire safety training on the plan. In addition, regular fire drills (e.g. quarterly fire drills) must be held to confirm the fire safety plan is working correctly.
Fire Management Plan
OSHA requirements are that employers must develop and implement a written fire safety plan that covers all the actions that employers and employees must take to ensure employee safety in the event of a fire.
General Industry (29 CFR 1910)
1910 Subpart E, Means of egress 1910.35, Compliance with alternate exit-route codes 1910.36, Design and construction requirements for exit routes 1910.37, Maintenance, safeguards, and operational features for exit routes 1910.38, Emergency action plans 1910.39, Fire prevention plans[1]
References
↑ OSHA. "regulatory standards". https://www.osha.gov/SLTC/firesafety/index.html
Links
Video