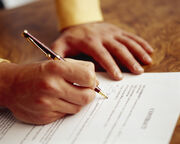 About
In common law legal systems, a contract is an agreement having a lawful object entered into voluntarily by two or more parties, each of whom intends to create one or more legal obligations between them. The elements of a contract are "offer" and "acceptance" by "competent persons" having legal capacity who exchange "consideration" to create "mutuality of obligation.[1]
References
↑ US Legal.com. "Elements of a Contract - Contracts" http://contracts.uslegal.com/elements-of-a-contract/ Accessdate: 5/31/2015
Links
Ad blocker interference detected!
Wikia is a free-to-use site that makes money from advertising. We have a modified experience for viewers using ad blockers

Wikia is not accessible if you've made further modifications. Remove the custom ad blocker rule(s) and the page will load as expected.