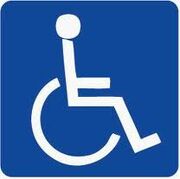 About
The American Disabilities Act (ADA) of 1990 contains technical requirements for handicap accessibility to buildings and facilities by individuals with disabilities. The scope is to be applied during the design, construction, and alteration of buildings and health-care facilities covered by titles II and III of the ADA to the extent required by regulations issued by Federal agencies, including the Department of Justice and the Department of Transportation, under the ADA. The illustrations and text of ANSI A117.1-1980 are reproduced with permission from the American National Standards Institute.
See additional ADA requirements at 28 CFR 35.151(h) and 28 CFR 36.406(g)
History
The history of the ADA did not begin on July 26, 1990 at the signing ceremony at the White House. It did not begin in 1988 when the first ADA was introduced in Congress. The ADA story began a long time ago in cities and towns throughout the United States when people with disabilities began to challenge societal barriers that excluded them from their communities, and when parents of children with disabilities began to fight against the exclusion and segregation of their children. It began with the establishment of local groups to advocate for the rights of people with disabilities. It began with the establishment of the independent living movement which challenged the notion that people with disabilities needed to be institutionalized, and which fought for and provided services for people with disabilities to live in the community.
The ADA owes its birthright not to any one person, or any few, but to the many thousands of people who make up the disability rights movement - people who have worked for years organizing and attending protests, licking envelopes, sending out alerts, drafting legislation, speaking, testifying, negotiating, lobbying, filing lawsuits, being arrested - doing whatever they could for a cause they believed in. There are far too many people whose commitment and hard work contributed to the passage of this historic piece of disability civil rights legislation to be able to give appropriate credit by name. Without the work of so many - without the disability rights movement - there would be no ADA. [1]
Common Requirements
Some common requirements are:
Single user toliets space is 36.25' (v1999) and 35.0' (v2010) with door swinging out.[2]
Doorways shall have a minimum clear opening of 32 in with the door open 90 degrees.
Mirrors shall be mounted with the bottom edge of the reflecting surface no higher than 40 in.
Sinks shall be mounted with the counter or rim no higher than 34 in.
Accessible parking spaces serving a particular building shall be located on the shortest accessible route of travel from adjacent parking to an accessible entrance.
The required Minimum Number of Accessible Spaces for a total of 100 cars parked in the lot equals four.[3]
Section 508
Section 508 Standards apply to electronic and information technology procured by the federal government, including computer hardware and software, websites, phone systems, and copiers. They were issued under section 508 of the Rehabilitation Act which requires access for both members of the public and federal employees to such technologies when developed, procured, maintained, or used by federal agencies.[4]
References
Links
Video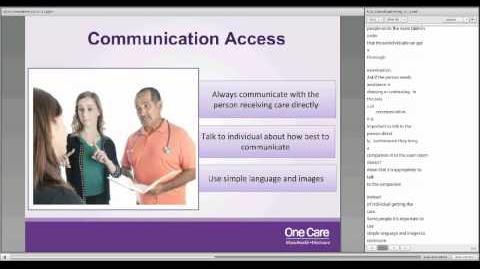 Ad blocker interference detected!
Wikia is a free-to-use site that makes money from advertising. We have a modified experience for viewers using ad blockers

Wikia is not accessible if you've made further modifications. Remove the custom ad blocker rule(s) and the page will load as expected.